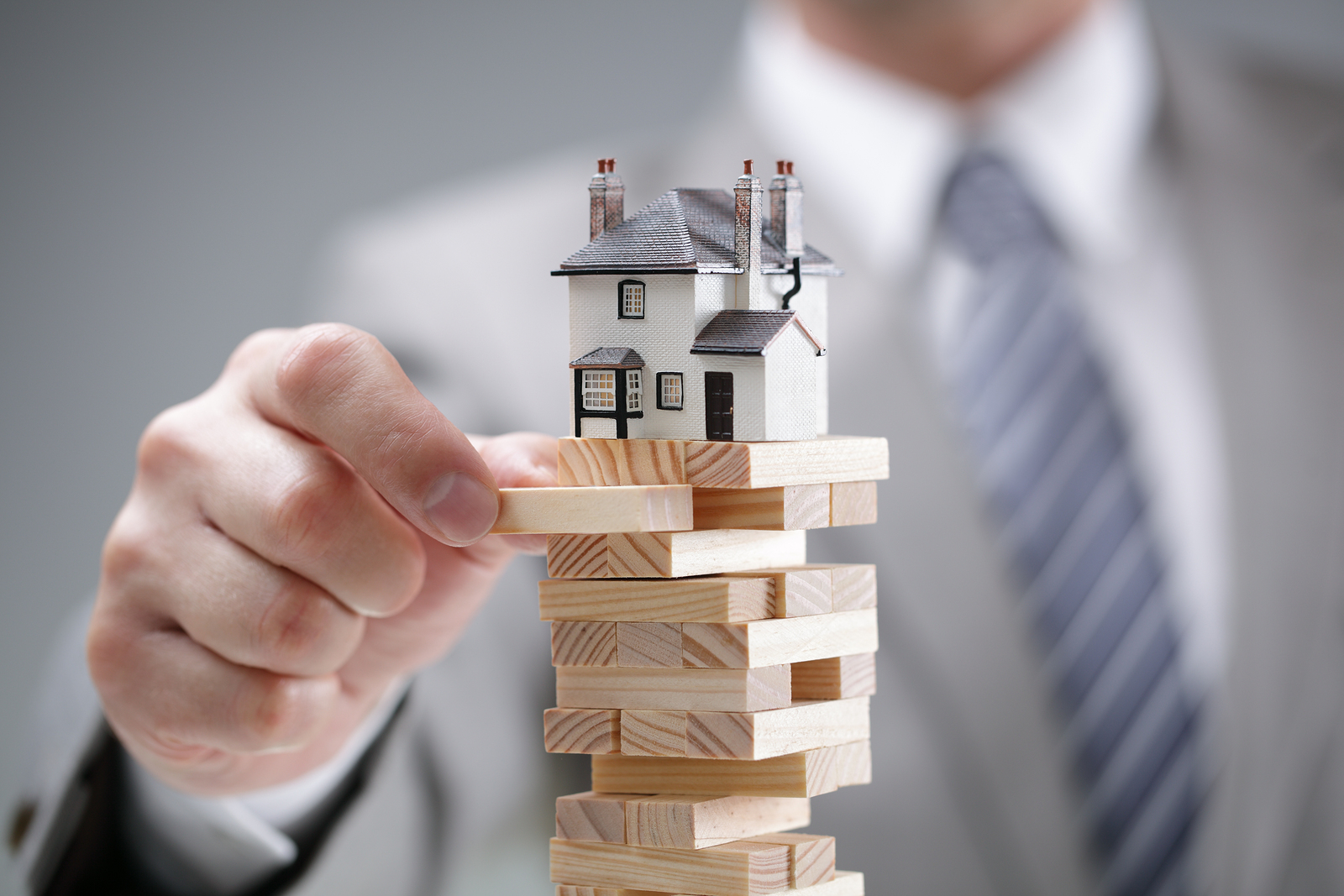 What To Do When The Real Estate Market Collapses (Again) 
The Coming Collapse
According to recent studies.. 58% of Americans believe the real estate market is heading for a  collapse within the next 18 months.. What does this mean for the real estate investor and Realtor? After 23 years in real estate, and having survived two market corrections, I can give you some key insights on what you can do to insulate yourself, as well as protect your business from the coming storm.  
What follows is excerpts from articles that I discovered from trusted sources on the internet.  Where possible, I've left links to the individual articles so that you can do your own individual research.  
In this podcast, I will make the case of the upcoming real estate market collapse, and concrete steps that you can implement to help your business thrive! 
Historical Perspective 
Recessions and falling home prices are not really new concepts. Housing prices took a 24 percent nosedive during the Great Depression of 1929. In hindsight, that housing recession was not really a good time to buy real estate in the short term because that particular recession lasted 10 years. 
All other recessions since 1929 lasted a period of two years or less. Many of those recessions shared falling stock prices, high-interest rates, high unemployment rates, and a loss of consumer confidence, along with one other common trait: They were all good times to buy real estate.
The 2008 Housing Market Crash
People who were caught in the 2008 crash are spooked that a 2018 bubble will lead to another crash. But that crash was caused by forces that are no longer present. Credit default swaps insured derivatives such as mortgage-backed securities. Hedge fund managers created a huge demand for these supposedly risk-free securities. That created demand for the mortgages that backed them.
To meet this demand for mortgages, banks and mortgage brokers offered home loans to just about anyone. They created the subprime mortgage crisis in 2006. 
As many unqualified buyers entered the market, demand soared. Many people bought homes as investments to sell as prices kept rising. They exhibited irrational exuberance, a hallmark of any asset bubble.
In 2006, homebuilders finally caught up with demand. When supply outpaced demand, housing prices started to fall. That burst the asset bubble. 
In September 2006, the National Association of Realtors reported that home prices had fallen for the first time in 11 years. Inventory was high, providing a 7.5 month supply. In November, the Commerce Department revealed new home permits were 28% lower than in 2005.
But the Federal Reserve ignored these warnings. It thought the economy was strong enough to pull housing out of its slump. It pointed to strong employment, low inflation, and increased consumer spending. It also promised to lower interest rates. That would give the economy enough liquidity to fuel growth.
The Fed underestimated the size and impact of the mortgage-backed securities market. Banks had hired "quant jocks" to create these new securities. They wrote computer programs that sorted packages of mortgages into high-risk and low-risk bundles. The high-risk bundles paid more but were more likely to default. The low-risk bundles were safer but paid less.
These bundles held unknown amounts of subprime mortgages. Banks didn't care about the credit-worthiness of borrowers because they resold the mortgages on the secondary market.
The ticking time bomb was the millions of interest-only loans. These allowed borrowers to get lower monthly payments. But these mortgage rates reset at a higher level after three years. Many of these homeowners could not pay the mortgage. Then housing prices fell and they couldn't sell their homes for a profit. As a result, they defaulted.
When times were good, it didn't matter. Everyone bought the high-risk bundles because they gave a higher return. As the housing market declined, everyone knew that the products were losing value. Since no one understood them, the resale value of these derivatives was unclear.
Last but not least, many of the purchasers of these MBS were not just other banks. They were individual investors, pension funds, and hedge funds. That spread the risk throughout the economy. Hedge funds used these derivatives as collateral to borrow money. That created higher returns in a bull market, but magnified the impact of any downturn. The Securities and Exchange Commission did not regulate hedge funds, so no one knew how much of it was going on.
The Fed didn't realize a collapse was brewing until March 2007. It realized that hedge fund housing losses could threaten the economy. Throughout the summer, banks became unwilling to lend to each other. They were afraid that they would receive bad MBS in return. Bankers didn't know how much bad debt they had on their books. No one wanted to admit it. If they did, then their credit rating would be lowered. Then, their stock price would fall, and they would be unable to raise more funds to stay in business.
The stock market see-sawed throughout the summer, as market-watchers tried to figure out how bad things were.
By August, credit had become so tight that the Fed loaned banks $75 billion. It wanted to restore liquidity long enough for the banks to write down their losses and get back to the business of lending money. Instead, banks stopped lending to almost everybody.
The downward spiral was underway. As banks cut back on mortgages, housing prices fell further. That sent more borrowers into default, which increased the bad loans on banks' books. That made the banks lend even less.
The Coming Collapse of the Real Estate Market
According to research conducted by Zillow and published in a report on Jul. 25, 2019
Exactly half of a panel of more than 100 real estate and economic experts said they expect the next recession to begin in 2020, with another third (35%) predicting the next recession to begin in 2021.

Trade policy, a geopolitical crisis and/or a stock market correction were the factors identified by panelists as most likely to trigger the next recession. A housing slowdown is unlikely to cause the next recession, according to the panel, but home buying demand is expected to fall next year.
The longest uninterrupted economic expansion in U.S. history will probably end with a recession in 2020, according to a panel of more than 100 experts.[1] Trade policy, a stock market correction and a geopolitical crisis were cited as the most likely triggers for the next economic reversal.
The current expansion recently broke the previous record-long streak of 120 months, set between 1991 and 2001. If the currently hot U.S. economy does slide into a recession next year, it will be doing so amidst softening home buying demand that is expected to be lower in a year than it is now.
The Q2 2019 Zillow Home Price Expectations survey, sponsored by Zillow and conducted quarterly by Pulsenomics, asked more than 100 real estate experts, economists and strategists for their views on the timing of the next recession and the evolution of home buying demand this year and next. Among those with an opinion, exactly half (50%) said they expected the next recession to begin at some point in 2020, with another 35% saying they expected the current expansion to end in 2021.
Almost one in five panelists (19%) said the next recession would begin in Q3 2020, the most popular quarterly choice, and 9% said the next recession was most likely in Q3 or Q4 of this year. Just 1% of those with an opinion said they expected the next recession would not begin until 2023, with another 1% saying it would happen after 2023.
The expected timing of the next recession was largely in line with expectations this panel expressed around the same time last year, when 48% of panelists said they expected the next recession to begin in 2020.
Housing Won't Cause the Next Recession, But Will Be Impacted
Panelists were asked to choose and rank up to three economic and/or political factors likely to trigger the next recession, from a list of 10. Trade policy, a geopolitical crisis and a stock market correction were the most commonly chosen factors, respectively. A housing slowdown was among the factors rated as least likely to cause the next recession, chosen by just one in eight (12.6%) panelists that offered an opinion.
But while panelists largely indicated a housing slowdown was unlikely to cause the next recession, the housing market will surely be affected by more sluggish economic conditions. A small majority (51%) of those experts with an opinion said they expect home buying demand in 2020 – when they say a recession is most likely to occur – to be somewhat or significantly lower than in 2019. About a third (32%) said they expected home buying demand to be about the same in 2020 as in 2019.
More immediately, almost three quarters of respondents (73%) said they expected home buying demand this year to be about the same or lower than last year. Home sales have been sluggish to start 2019 compared to the beginning of 2018, despite conditions that are more favorable for buyers now than they have been in quite some time.
Weakening Demand, Slowing Home Value Growth
Put together, signs of already fading demand and the possibility of an impending recession are also very likely to contribute to further slowdowns in overall U.S. home value appreciation going forward. 
Currently (April 2019), U.S. median home values are growing at a 6.1 percent annual pace – strong by historic standards, but well below annual appreciation rates of 8.1 percent recorded as recently as December. Annual home value growth has slowed in each of the past four months compared to the month prior, and panelists said they expect this slowdown to continue.
Panelists were asked for their opinions on the pace of home value growth over the next five years. On average, panelists said they expect annual growth at the end of 2019 to be 4.1 percent, slowing further to 2.8 percent in 2020 and 2.5 percent in 2021 before picking up somewhat in 2022 and 2023 (to 3 percent and 3.4 percent, respectively).
How to Prepare for the Real Estate Market Collapse
Know the Warning Signs and What You Should Do Now
Most Americans are concerned that the real estate market is going to crash. A recent survey found that 58% agreed that there would be a "housing bubble and price correction" by 2020. As a result, 83% of them believe it's a good time to sell.
What is Different Today than 2008?
There are many differences between the housing market in 2005 and the current market. In 2005, subprime loans totaled more than $620 billion and made up 20% of the mortgage market. In 2015, they totaled $56 billion and comprised 5% of the market.
Banks have raised lending standards.

According to

CoreLogic's Housing Credit Index

, loans originated in 2016 were among the highest quality originated in the last 15 years. In October 2009, the average FICO score was 686, according to Fair Isaac. In 2001, the average score was 490 to 510.

Tighter lending standards have made a difference in the "flip" market

. Lenders only finance 55% of the home's value. The "flipper" has to come up with the rest. During the subprime crisis, banks lent 80% or more. 
The number of homes sold today is

20% below

the pre-crash peak.

There's only a four-month supply of homes available for sale.

As a result, about 64% of Americans own their own homes, compared with 68% in 2007.

Home sales are lower because the recession clobbered young people's ability to start a career and buy homes. Faced with a weak job market, many furthered their education.

As a result, they are now burdened with school loans. That makes it less likely they can save enough to buy a home.

That will keep demand down.

Home prices have outpaced income.

The average income-to-housing cost ratio is 30%. In some metro areas, it's skyrocketed to 40% or 50%. Unfortunately, metro areas are also where the jobs are. That forces young people to pay more for rent to be close to a job that doesn't pay enough to buy a house. Thirty-two percent of home sales today are going to first time homebuyers, compared to 40% historically,

says the National Association of Realtors

. Typically, this buyer is 32, earns $72,000, and pays $182,500 for a home.A two-income couple pays $208,500 on average.
Homeowners are not taking as much equity

out of their homes. Home equity rose to $85 billion in 2006. It collapsed to less than $10 billion in 2010. It remained there until 2015. By 2017, it had only risen to $14 billion. 

Some people point that national housing prices have exceeded their 2006 peak. But once they are adjusted for 11 years of inflation,

they are only at the 2004 level

. Between 2012 and 2017, home prices rose 6.5% a year on average. Between 2002 and 2006, they rose 7.5% annually. In 2005, they skyrocketed 16%. 

Homebuilders focus on high-end homes. New homes are larger and more expensive

. The average size of a new single-family home is

almost 2,700 square feet

. That compares to 2,500 square feet in 2006.
The Signs of a Bubble
There are plenty of signs that the housing market has been in bubble territory. Most crashes occur only because an asset bubble has popped. 
One sign of an asset bubble is that

home prices have escalated

. National median family home prices are 32% higher than

inflation

. That's similar to 2005, when they were 35% overvalued.

The Housing Bellwether Barometer is an index of homebuilders and mortgage companies. In 2017, it skyrocketed like it did in 2004 and 2005. That's

according to its creator

, Stack Financial Management, who used it to predict the

2008 financial crisis

. Similarly, the SPDR S&P Homebuilders ETF has risen 400% since March 2009. SPDR refers to the S&P Depository Receipts, an exchange-traded fund that tracks Standard & Poor's 500 Index. It outperformed the S&P 500 rise of 270%.

The Case-Shiller national index hit record highs in December 2016. Price increases were concentrated in seven urban areas. Home prices in Denver and Dallas were 40% higher than their pre-recession peaks. Portland and Seattle prices were 20% higher. Boston, San Francisco, and Charlotte were 10% above their peaks. 

Home prices in Denver, Houston, Miami, and Washington, D.C. were at least 10% higher than sustainable levels,

according to CoreLogic

.
At the same time,

affordable housing has plummeted

. In 2010, 11% of rental units across the country were affordable for low-income households. By 2016, that had dropped to just 4%. The shortage is the worst in cities where home prices have soared. For example, Colorado's stock of affordable rentals fell from 32.4% to only 7.5% since 2010. This happened after it became one of the

states where pot is lega

l.
In March 2017, William Poole, a senior fellow at the Cato Institute, warned of another subprime crisis. He warned that 35% of Fannie Mae's loans required mortgage insurance. That's about the level in 2006. In some ways, these loans are worse. Fannie and Freddie lowered their definition of subprime from 660 to 620. The banks are no longer calling borrowers with scores between 620 and 660 subprime. Poole was the head of the Federal Reserve Bank of Kansas who warned of the subprime crisis in 2005. 
Another concern is the

increase in unregulated mortgage brokers

. In 2018, they originated 52% of U.S. mortgages. That's more than the 48 the sector originated in 2007.

Six of the 10 largest mortgage lenders

are not banks. They aren't as regulated as banks. That makes them more vulnerable to collapse if the housing market softens again.

In 2016, 5.7% all home sales were

bought for quick resale

. These "flip" homes are renovated and sold in less than a year.

Attom Data Solutions reported

that's the highest percentage since 2006, during the last boom.
Two Reasons Why the Housing Market Has Slowed
New home sales have fallen 22% between November 2017 and September 2018. Resales fell 10% during that period. The last time this happened was in 2005.
The difference is that home prices haven't fallen. Instead, they've gradually slowed their increase. Many home sellers are disappointed they can't get the same high prices their neighbors got a year earlier. They are reluctant to lower their prices, and so sales have slowed.
One reason for the slowdown is because average incomes haven't kept up with home prices. Per capita income rose 25% between 2011 and 2018. Home prices rose 48% during that period.
Will The Home Prices Now Fall?
Despite slowing sales, homebuilders continue to request more new home permits. In 2017, they were granted 1.3 million permits, according to the U.S. Census. That's lower than the average number in the 1990s.
But it's 6.2% higher than in 2016. That's less of an increase than in 2015 when they received 12.4% more permits. This increase is higher than in the years preceding the financial crisis. Between 2001 and 2005, permits increased just 8% per year on average.
They went wild in 2012 when they got 33% more permits than the prior year. They received 19% more permits in 2013. But they were making up for severe losses incurred during the crash. Housing permits fell from 1.4 million in 2007 to only 583,000 in 2009, a 58% decline.
On the whole, builders have not oversaturated the market like they did before the financial crisis. As a result, it's likely home prices will not fall like they did during the crash.
How To Thrive In A Down Market
Buying Homes in the Midst of a Housing Recession
When prices fall, the question is not really how low can they go? The question is how much real estate can you buy before prices go back up. If you are buying a home during a housing recession, getting a good price is just as important as being able to hold and ride out the housing recession.
Just because there are a lot of foreclosures, doesn't mean they are ALL foreclosures… even in the height of the "Great Recession" less than 20% of homes were in default. 

Looking at Overpriced Homes


In depressed markets, it's not unusual for some sellers to price their home too high.Its not uncommon, but many times, you can make a deal.  

Buying Distressed Sales in a Housing Recession


In a housing recession, you have multiple opportunities to buy investment property.  Preforeclosure, Short Sales, Auction, as well as REO. 
Before Buying a Short Sale


Buying a short sale is a great opportunity for you to make instant equity. 

Buying Post Foreclosures: REOS


As a former REO Agent, I can assure you that there are opportunities to buy REO property. 
Drawbacks to Buying in a Housing Recession
Not every home you spot for sale will be a good buy. Some might require extensive repairs or be located in the wrong neighborhood. The key to buying a home is and always will be location, location, location—followed by conditions.
Here are precautionary tips for home buyers in a housing recession.
Stripping Foreclosure Homes




Fixtures are real estate because they are not personal property; they are affixed to the land, to the house, which means fixtures stay with the house. That doesn't stop some desperate homeowners from smashing walls to rip out Romex wiring or copper pipes and selling them for scrap in back alleys.

Ways to Lose Your Home




Whenever a housing recession hits, the crooks crawl out of the woodwork. Be sure to watch out for and don't fall for gimmicky schemes.
Buying Fixer-Uppers




Some of the lowest-priced homes will be those that require extensive repairs. Here is how to buy a home that needs fixing up, and how to tell the difference between a major rehab or a home that requires small cosmetic fixes.
**Now Available!**
Real Estate Investing for Realtors! E-Book for Realtors who want to ensure they remain Code of Ethics compliant, 26 Lead Generation Methods, Flipping MLS property and MORE!
Check it out here!  http://bit.ly/2MPptOr
Save on $149 your setup fee with The Red X by clicking here! http://bit.ly/31o481I
Do you have a problem property that you need to sell in Tucson Arizona?  Contact me directly via my website at www.KarlBuysHouses.com!!
If you liked that website... check out the people who created it for me!  Check out Investor Carrot and save by clicking here! http://bit.ly/2XIIdn7