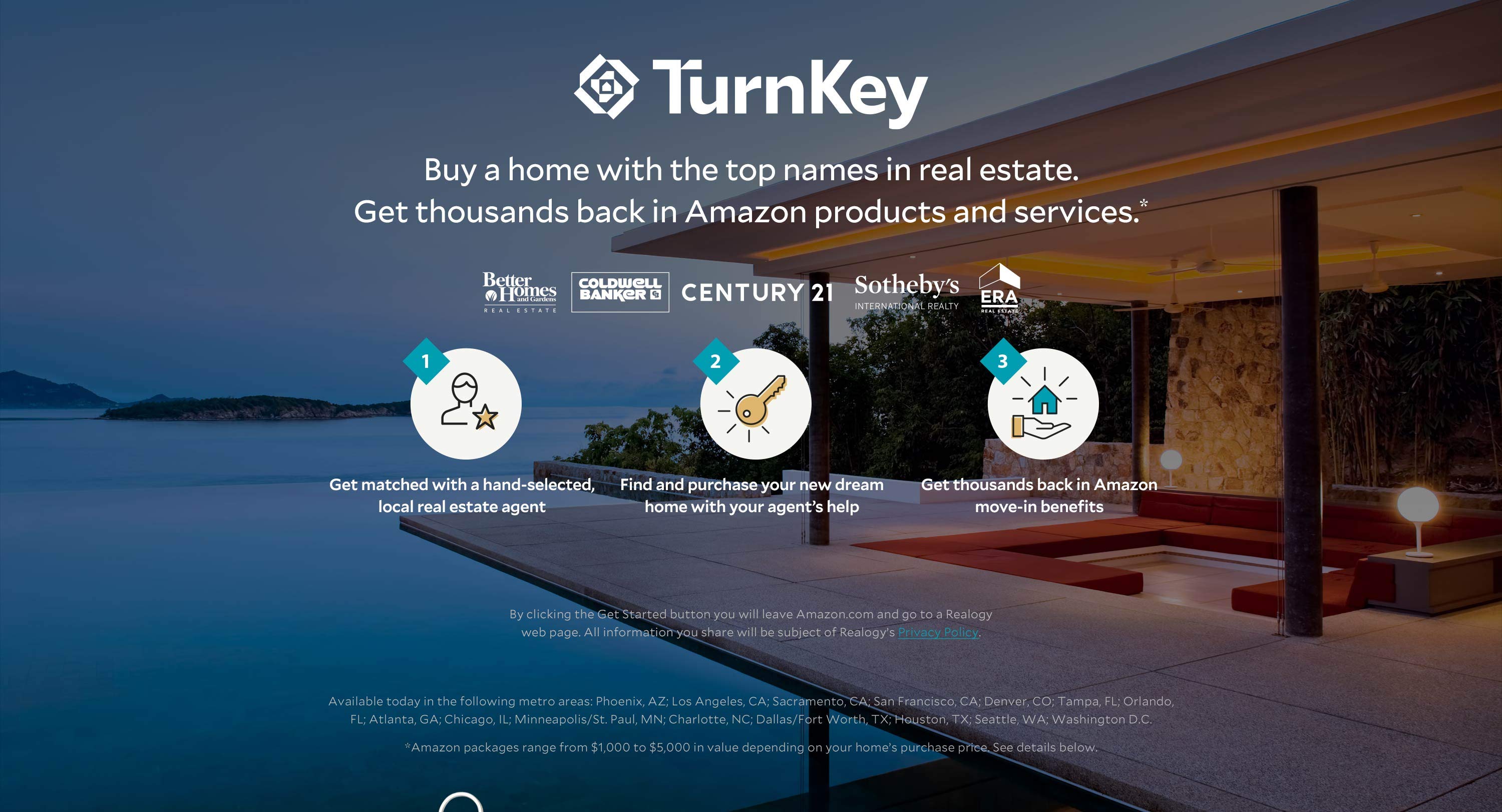 Amazon Turnkey Will Change Real Estate!
That you can count on!  In today's podcast, let me share with you 5 specific reasons why this will change EVERYTHING you know about real estate.
What happened..
MADISON, N.J., July 23, 2019 /PRNewswire/ -- Realogy Holdings Corp. (NYSE: RLGY), the largest full-service residential real estate services company in the United States, today announced in collaboration with Amazon the launch of TurnKey, a new homebuying program that simplifies the process of finding and settling into a new home. Now available in 15 U.S. cities, TurnKey combines Realogy's real estate expertise across its well-known and trusted brands, including Better Homes and Gardens Real Estate, Century 21, Coldwell Banker, ERA and Sotheby's International Realty, with the ease and convenience of Amazon's Home Services and smart home products.
What Turnkey offers
Connection to an Experienced Real Estate Agent: TurnKey seamlessly connects homebuyers to one of the best real estate agents within their city or neighborhood of choice. Matched according to the homebuyer's profile, TurnKey agents, who are affiliated with one of Realogy's trusted residential real estate brands, have been selected based on their exceptional customer service record and local market expertise.
Free Amazon Move-In Benefit: Upon closing on a home, Amazon connects the buyer with services and experts in their area to help make the house a home. Valued from $1,000 to $5,000* in complimentary products and Amazon Home Services courtesy of Realogy, the Amazon Move-In Benefit includes:
A selection of Amazon Home Services to customize a new home, such as deep cleaning, a handyman to assemble furniture, hang pictures, install shelving or mount a TV on a wall, and much more;

A curated suite of smart home products, installed by Amazon or Amazon-vetted professionals;

Peace of mind with the Amazon Happiness Guarantee.
With these benefits, TurnKey is truly a beginning-to-end homebuying program that seeks to raise consumers' expectations of what it means to buy a house and make it a home.
How this affects both parties..
The new service, called Turnkey, is a way for Realogy to tap Amazon's growing customer base, which by one estimate includes half of U.S. households as Prime members. But for Amazon, it may prove to be a path for introducing more of its devices into homes, such as Ring doorbells and Alexa speakers.
How this affects the Real estate Market
 It creates competition to Zillow for Lead Generation.  
Currently, people many times will go to Zillow, to find a house.  Agents pay for leads from Zillow. There hasn't been any competition to Zillow on this for some time.. Because of this, their ability to harvest leads and then sell them to real estate agents as well as premiere advertising placement has been a major source of income.

Now, Amazon, with over 300 million accounts, has given a benefit for someone to use THEIR partnered agents, as opposed to an agent who ISN"T with a Realogy affiliated company.

People will still look on Zillow to get values, etc. but if they are an Amazon Customer.. They can get up to $5000 worth of benefits if they use the agent Amazon recommends.. For free.

This.. is a big problem for Zillow's advertising in my mindset.  Sure, there are other agents who aren't affiliated with a Realogy company who will still advertise with them.. But if the buyer leads end up using an Amazon agent, it will quickly get frustrating for that agent.  

Currently, there isn't any talk about putting Realogy listings on Amazon, BUT… If this move to create a program for BUYERS works well.. It's not hard to see how this could expand into a program for SELLERS as well. 

Although this program is designed for Buyers… it will undoubtedly attract a Move UP, or Move DOWN buyer/Seller.  A homeowner who is looking to move, who happens to be an Amazon member, could feasibly use an Amazon referred agent to buy a home, and that agent could potentially end up with that listing as well.    This being said, this could further create competition for Zillow as well as IBuyers.  

Why??
It Changes The Paradigm of Selling Your Home They own Whole Foods, Ring, and Pill Pack. As well as other home services companies.  Roughly half the money you get is in credit between the two areas… Home services, and Technology.
In the market of IBuyers like OpenDoor, or Zillow, it creates another option. Another compelling reason to potentially change their plan.  

Some homeowners who consider an IBuyer approach many times use them for their convenience.  They pay a premium for the convenience of closing at a certain time, or under certain conditions.    If they are also buying, this will increase the odds that they will meet an agent.  

Amazon has over 300 Million users.  
When the market is good, people devalue agents and their usefulness.  We have had an extraordinary period of growth.. This will change. 

When the market is tougher, and homes aren't selling as quickly, or as easily as they currently are… people tend to rely on the services of an experienced agent or broker..  

When times are good, people don't mind paying less and getting less service.. Because after all. .the agent "doesn't have to do much" But when a market is tough, companies that provide full service thrive and discount brokerages tend to shrivel and die. 

When the market changes, and becomes harder, IBuyers like offerpad, redfin, and Zillow will have a harder time making money on real estate brokerage or rehab. 
It adds a "Comfort and Technology" centerpiece for their home. You watch Amazon Prime, on a couch you ordered by Amazon, while Alexa is in the background.. After you just got same day delivery of a cute little something your wife found yesterday.  Amazon is getting into every aspect of the home.. Why not the purchase.. And eventually the sale?   Trying to make it easy, and comfortable.. With technology.
What I mean by Comfort and Technology is that it now will become extraordinarily easy for one to buy a home and equip it with the latest gadgets, and ease of installation.. Just for using a referred agent.  At no cost to them.. Simply as a benefit of being an amazon member.

With the addition of Blockchain Technology, Smart Contracts and other technologies on the horizon… it will make it extremely easy to buy a house…

Amazon partnered with Lennar on new homes in 2018 outfitting them with smart technology.

By making these moves, it allows Amazon to get more fully connected with you, and your home..
Today Buyers.. Tomorrow Sellers Lead Generation (Both Buyer and Seller) Mortgage Lead Generation (Both Buyer and Sellers Refinancing)  Home Services  Technology  And more
Although they've not talked about putting Realogy Brokerage listings on Amazon.. WHY NOT??

As I mentioned earlier, this is an expedition into Buyers, but there is ridiculous amounts of money to made within this entire process.

When Zillow started, it wasn't considered to be much.  Look at it today.  

Amazon is much bigger, with a bigger customer base, and they are offering services in the easiest section to start.  BUYERS. They aren't offering a potential value of your home as their lure to

get you to use their service

.. They are marketing to you ALREADY.

While we are talking about the future.. Lets talk about point 5
The Future of Amazon and Real Estate I think this is undoubtedly the future.  Thats the most logical next move. If that happens… then 
Realogy Brokerage listings on Amazon? 

Motivated Home Seller Lead Generation (That is the goose that laid the GOLDEN Eggs) Mortgage Lead Generation (Another moneymaker) 

Possibly Amazon MORTGAGE? Perhaps an affiliate like Realogy will provide Mortgage services

Blockchain, Smart contracts all in the future.  

Perhaps locating your home on Amazon, and being able to complete much of the transaction via your computer without ever leaving your home unless you wanted to?
This is truly a monumental change to the real estate industry.  
 ****
**Now Available!**
Real Estate Investing for Realtors! E-Book for Realtors who want to ensure they remain Code of Ethics compliant, 26 Lead Generation Methods, Flipping MLS property and MORE!
Check it out here! http://bit.ly/2MPptOr
Save on $149 your setup fee with The Red X by clicking here! http://bit.ly/31o481I
Do you have a problem property that you need to sell in Tucson Arizona? Contact me directly via my website at www.KarlBuysHouses.com!!
If you liked that website... check out the people who created it for me! Check out Investor Carrot and save by clicking here! http://bit.ly/2XIIdn7